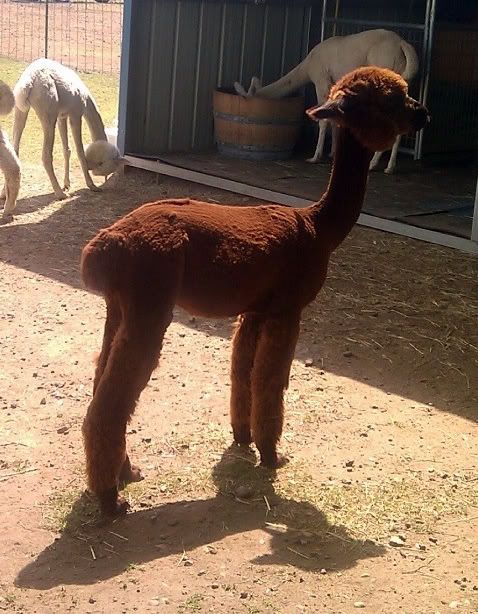 A is for Alpaca!
First some belated pictures from my knitting group's "field trip" to the lunch and fiber event hosted by Natural Maximum Alpacas a couple weeks ago. I say it was kind of like a field trip, but we didn't really have to leave town. The farm is on the town outskirts off in the country, just much further out than I even realized that road went.

(Then a hat I made - Yes! A real live Finished Object!!)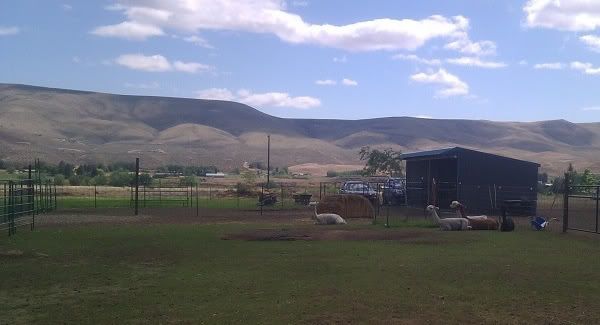 The view from the farm...which is also basically the same view from anywhere in the valley. The hills are pretty, but I do miss the green ones I grew up with back in NY sometimes.
After lunch we got a tour of the place from where the alpacas live to the skirting room where they get the fiber ready. They don't spin what they sell there, but send it away for that (to somewhere in NY actually) I'm thinking this might be part of why the yarn was so expensive.
I spent a bit of time talking to a woman from Sage Brush Alpacas, another local farm. The yarn they had was gorgeous and incredibly soft, but sadly out of my price range. BUT the big bags of fleece actually weren't so bad. Only problem is I had NO idea what I would do with that much fluff, or how I would even get it ready to be spun. After the demos and tour I have a better idea, but still that's a lot of work for more than I'd be likely to use for quite a while. I asked if they ever sell smaller amounts, like an ounce or two, and she actually pulled a little more than an ounce of fluff out of a bag and gave it to me to play with an see if I like it. So nice of her!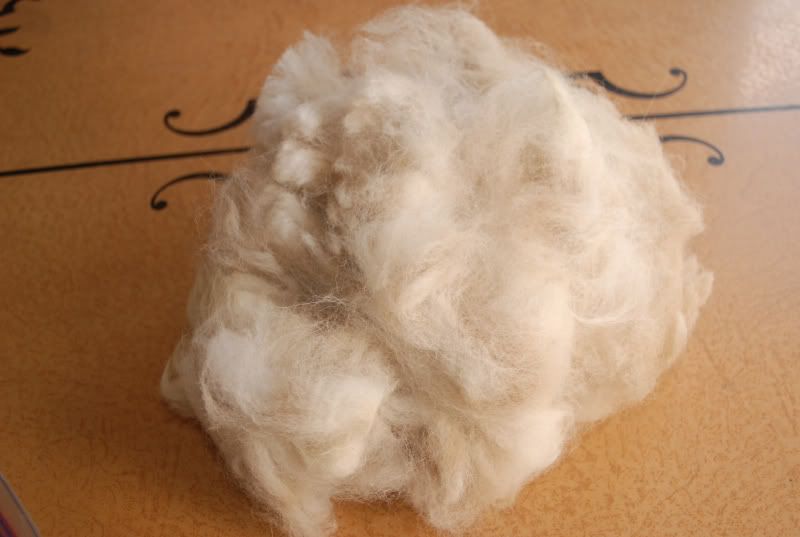 Yes I did pet it, but not as much as I did the yarn.
I'm happy to be able to try this little bit, and who know, maybe I'll like it. I just need to borrow some carders first. Plus, now I have their address and they told me about a "spin in" they're holding there in July. If I'm not busy working I might have to check that out.
And even though neither of the farms there spin their own yarn for sale, there were demos with a local spinner and weaver for show and tell, question and answer, whatever you want to call it.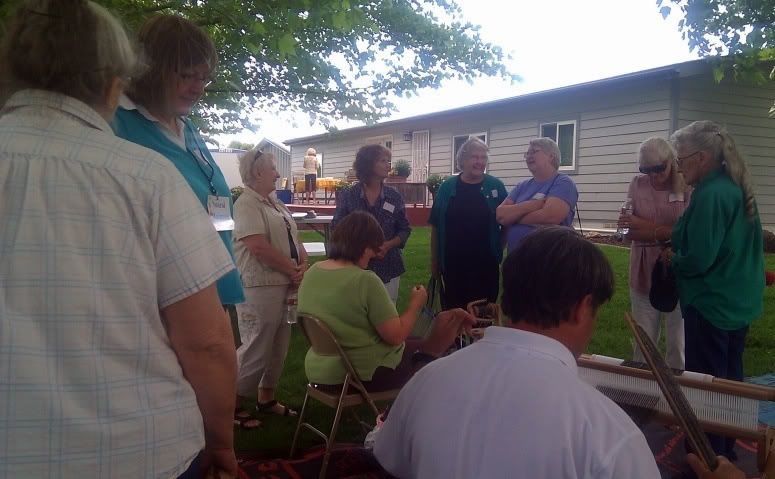 Some of the ladies in the group with me, Barbara leaned in for a closer look. Made me happy because then I wasn't the only one crowding the spinner.
They were selling scarves and hats for that were made by them, very pretty things and super soft. I would have felt odd taking pictures of it and not buying anything (don't you wish life had a cheat code for unlimited money?) You'll just have to take my word on it that they had some great things
.
Instead of product pictures, how about some gratuitous alpaca pics instead?
(Hanging around inside the fence with them was my consolation prize for not being able to keep one in my tiny postage stamp of a yard)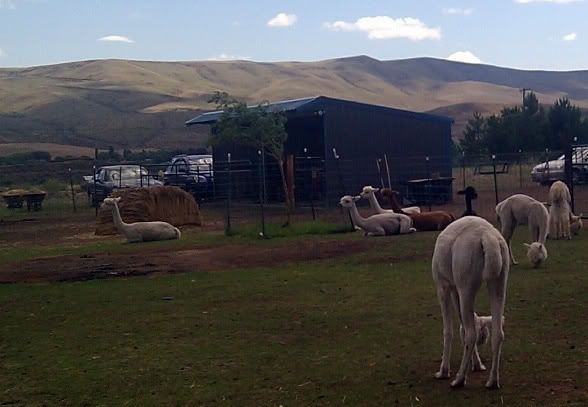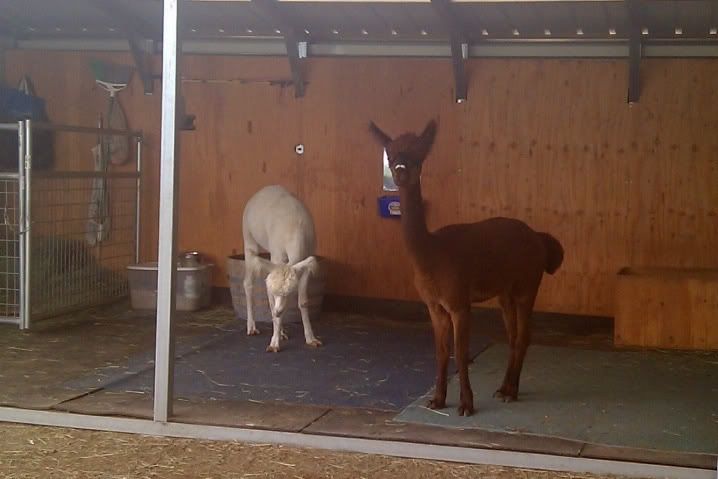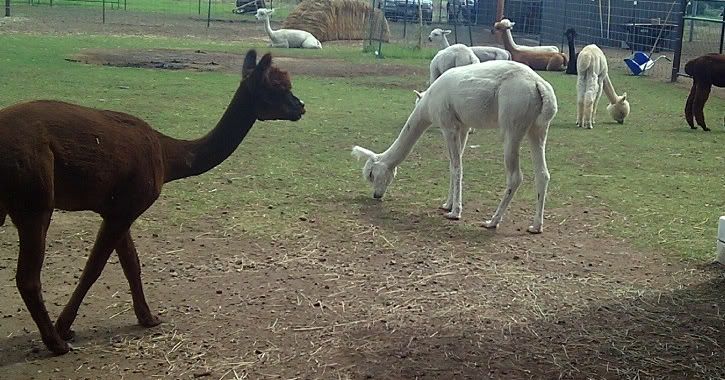 Last picture from field trip day is of the waterfall and pond they had on the opposite side of the entrance from the field with the alpacas. I tried to put recreating this on BF's todo list, but it was a no-go. Bummer. Girl's gotta try though! (and maybe hope that those DIY spinning wheel build plans seem more do-able by comparison)
Now for some knitting -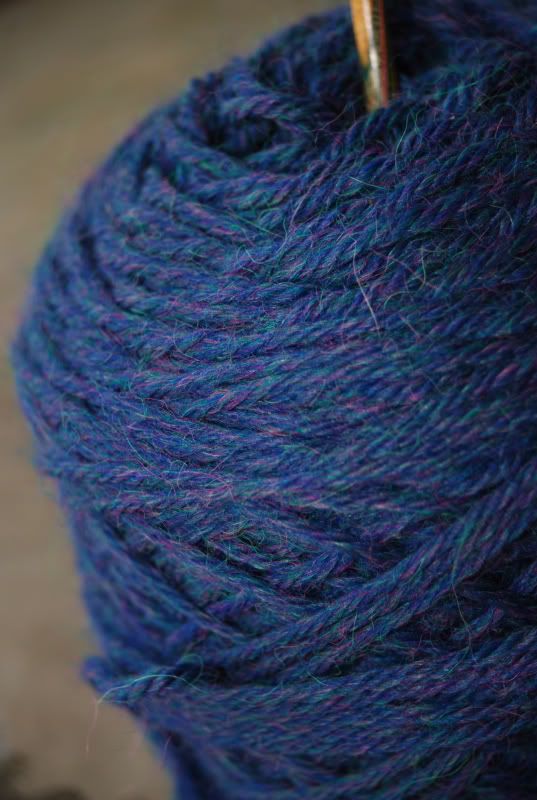 I was a little bummed I couldn't bring any of the yarn home with me that day, but then I thought about the Cascade Lana D'Oro Heathers that's been sitting in my stash for over a year. It was originally going to be a hat for my sister, but then I went a whole other direction for her. I might not have been able to get new yarn, but there was no reason not to use the perfectly wonderful yarn sitting in my cupboard, right? It's a 50-50 wool alpaca blend and is 100% soft and the colors are beautiful.
One of the Rav groups is doing a Hurricane Hat KAL to ward off hurricanes for our neighbors to the south (or anywhere else those pesky things try to pop up!) This gave me the perfect excuse to use my special yarn. I didn't exactly follow
the pattern
, I followed
another knitter's mods
for a tight spiral, and then modified those instructions to eliminate some of the plain rows during the decreases to make for a flatter top.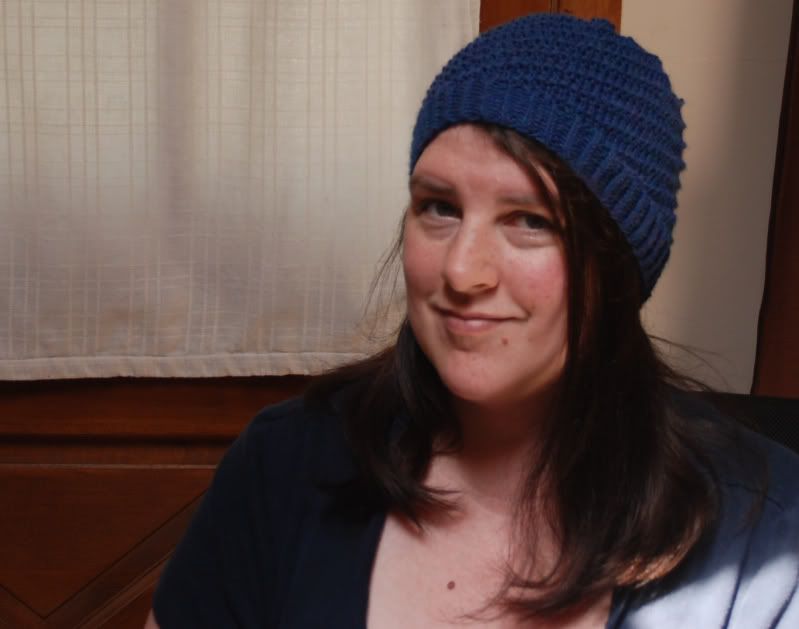 It was really hard for me to photograph – try to take a picture of yourself in a hat sometime, it's not as easy as you'd think! – but the pattern really does well to show off all the flecks of color in the yarn. And it's warm. SO WARM.
BTW – Please excuse my red face and funny smirk, I'm just thinking about how ridiculous I look sitting around wearing a wool/alpaca hat when it's 80 degrees in the shade.