And this is while I'll never run out of WIPs
My most recent finished project is my cardi -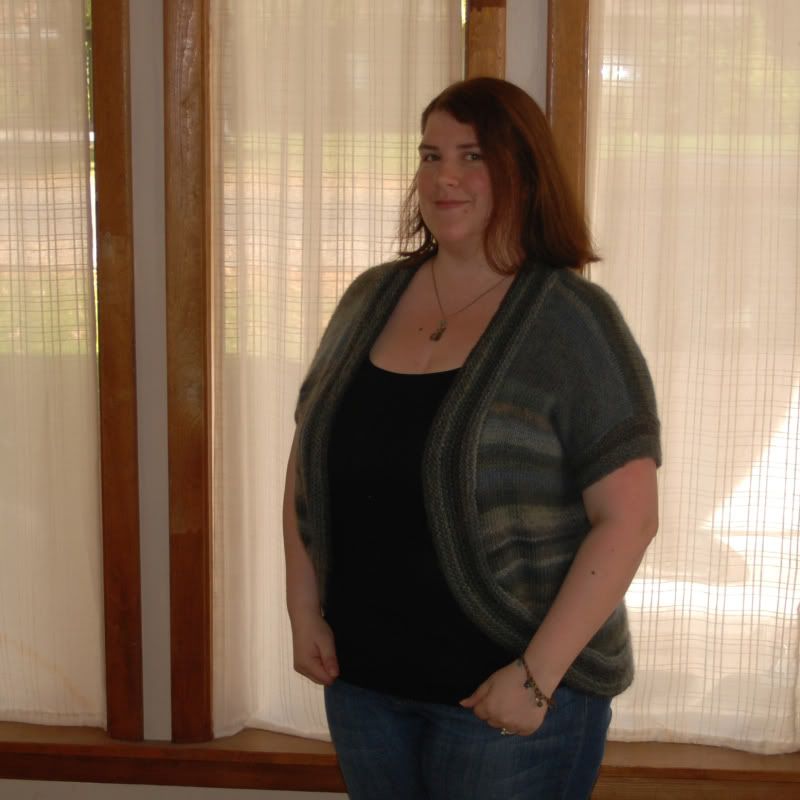 I just finished it last night, and I was so excited. My first big person cardi, all done
and
it fit. Even better, it was actually kind of cool out today, so I was able to wear it to work.
The pattern is
abalone
by Beata Jezek, and is available as a free Ravelry download. Mine was done with Lion Brand Amazing yarn, a superwash wool/acrylic blend. Not bad to work with, but I don't think it would hold up to frogging well. Luckily I didn't have to worry about that. The one thing I
did
have to worry about was running out of yarn. All the local stores were out of it in the Olympia colorway too. I was able to find more than I needed to finish though, bought out of another Rav users stash. It was even the same dye lot, but honestly with the variegation in this yarn I don't think it would have mattered.
My only other FO since my last update was the teddy bear I knit as my younger niece's Christmas gift.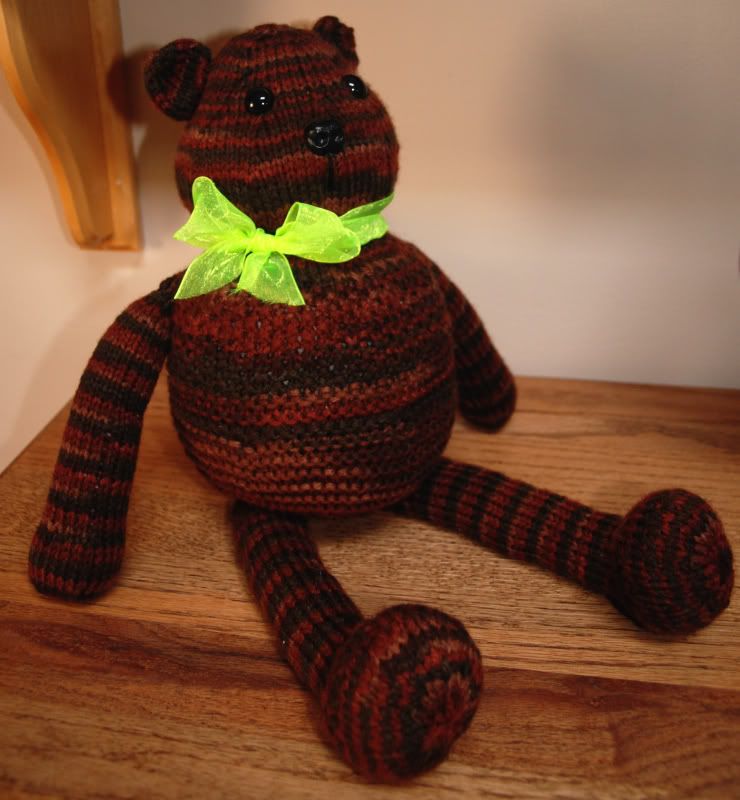 It's
texture bite
by Nancy Anderson, from the (free!) online mag Petite Purls. I used Loops and Threads Earth Ombre. I had an impossibly bright ribbon which I tied in a bow, and now the cute floppy guy is ready to gift. I just need to find the books I want to give her along with the toy.
Now even though I've finished a couple things, I'm
still
at 8 WIPs.
That's because I started a new pair of socks (those Blue Day socks, but in the green), another Christmas gift (a monster my friend's daughter 'designed' from the mix and match section of the latest Mochimochi book)
aaaaaaaand I signed up for another mystery toy KAL - I know I shouldn't have, but I just can't help it! They're fun :D
So that's me, still sitting at 8 projects, with plans to cast on even more. Still under a dozen though! And I've made a bunch more progress on the KaFS playmat. I really need to do an update on that!