Which puts me down to 7 WIPs ... For now.
Hovering around 8 works in progress is better than a dozen though, right?
My latest finish is third pair of socks.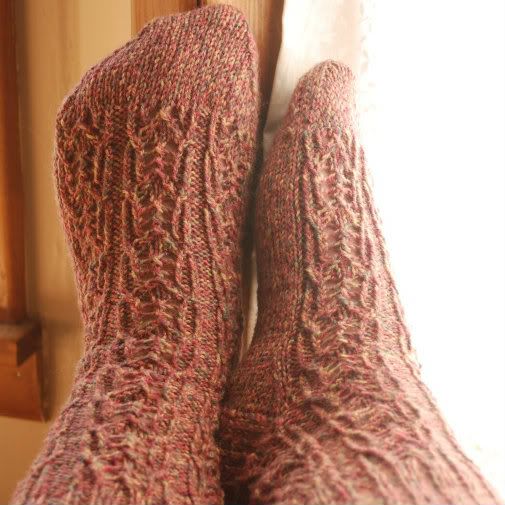 The pattern is Cyranea by Patti Waters (available on Rav
here
but I received the whole ebook from Hot Pink Socks reviews) The pattern is great. Easy enough to memorize after a couple of repeats but with enough going on to keep it interesting. The perfect combination in my book. The fit is perfect. That was something I worried about with only one size being given, but the lace and cables give it a lot of stretch. These socks would fit a whole range of sizes.
The yarn? Less of a joy. As in terrible to work with, but too pretty to just give up on. Not a good combination! It shows of the pattern well, but was splitty as hell. Even worse the core in the middle that's supposed to give it strength and stretch is not dyed so you really don't want it peeking through. The yarn was Walk Away sock yarn. Yarn Bee (from Hobby Lobby) makes some great yarns, but this just is not one of them.
My next pair of socks (which I already started planning half way through this pair!) is going to use some of my 'nice yarn' squirreled away in my stash. I think I've earned it, and I'm confident enough with sock knitting now that I'm not worried I'll "ruin" it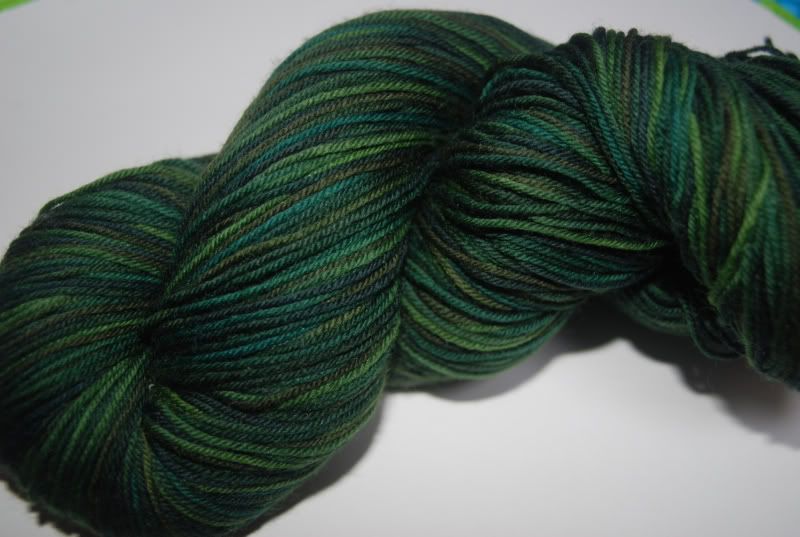 This is the skein of Cascade Heritage Paints that BF bought me last year. It hopes to become a lovely pair of
Blue Day socks
by Moonfire Handknits when I'm done.
Sooooo I guess that'll put me back at 8 WIPs (oops?)